The biblical passage "Blessed are the meek: for they shall inherit the earth" always makes me think of the late Pleistocene megafauna extinctions.  The passage is part of Jesus's sermon on the mount and is found in Matthew 5:5, though for some reason Luke omits it.  Most biblical scholars believe the word meek in this passage means powerless, and it represents the slaves and the small powerless Christian sect within the Roman Empire.  A large segment of the Roman Empire's population consisted of slaves, and the Christian religion appealed to them because of the concept that their miserable lives might be rewarded in the afterlife, if they believed in Jesus.  Ironically, after the Roman Emperor Constantine made Christianity the official religion of the empire centuries later, Christians no longer acted meek–they oppressed all other religions. The late Pleistocene extinctions make me think of this passage because so many powerful animals such as giant lions, saber-tooths, short-faced bears, dire wolves, mastodons, mammoths, ground sloths, and giant bison all disappeared from the face of the earth; but small animals continued to live and were just as common as they'd always been.  Among them are 2 of the smallest mammals on earth–the southern short-tailed shrew (Blarina carolinensis) and the eastern pipistrelle (Pipistrellus subflavus).
Photo of a short-tailed shrew my cats killed last week.
The southern short-tailed shrew weighs between .5-1 ounce.  They hunt in burrows near the surface but also scurry though more permanent burrows located up to 2 feet underground.  They eat half their own weight in food everyday.  Their diet consists of worms, spiders, centipedes, insects, snails, amphibians, and mice.  During winter they can subsist on fruit, acorns, and fungi.   They are smaller than mice but can subdue them with a venomous bite.  Southern short-tailed shrew specimens have been recorded from at least 23 Pleistocene-aged fossil sites, including the Isle of Hope in southeast Georgia.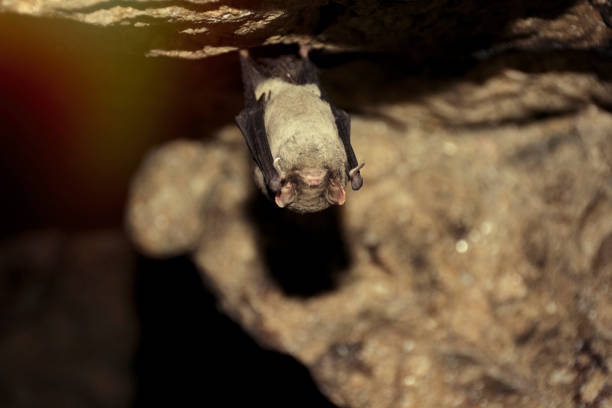 Eastern pipistrelle.
The eastern pipistrelle weighs between .1-.3 ounce and is about the size of a large moth.  Their wingspan reaches a width of only about 2 inches.  They feed upon flying insects.  Both eastern pipistrelles and short-tailed shrews navigate in the dark by using echolocation.  Fossil specimens of this species have been found from at least 19 Pleistocene-aged fossil sites including Ladds in north Georgia.
Of course, not all species that inherited the earth are meek.  Man is a notable exception.