388 species of land mammals occur in India today, including 15 species of flying squirrels, 20 species of bovids, 18 species of deer, 16 species of cats, 19 species of monkeys, and 3 species of apes.  The diversity of habitats in India from high mountains to desert plains with subtropical forests and mangrove swamps in between supports this great variety of mammals.  Africa has 1100 land and marine species of mammals and Pleistocene North America had 540, but they are whole continents.  India is just a subcontinent.  Compared to North America but like Africa, India didn't suffer many late Pleistocene extinctions.  However, there were a few notable species that became extinct or extirpated in India.
Gelada baboons (Theropithecus gelades) today are restricted to the Ethiopian Highlands, but fossil evidence from the Billasugrun Cave Complex showed they formerly ranged into India.  Ostriches also formerly extended their range into India during the Pleistocene, but no longer occur there.
Gelada baboons are restricted to the Ethiopian Highlands today, but during the Pleistocene their range extended into India.
Today, Asiatic elephants still live in India, but during the Pleistocene 2 additional species of elephants occurred in India–the Asian straight-tusked elephant (Paleoloxodon namadicus) and stegodon (Stegodon namadicus).  The former may have been the largest land mammal to ever live on earth.  Both species went extinct about 30,000 years ago when men began using projectile weapons.
Scientists think the Asian straight-tusked elephant may have been the largest land mammal ever.  It became extinct in India soon after humans began using projectile weapons ~30,000 years ago.
Stegodon namadicus.  The fossil record suggests it was formerly more abundant than the Asiatic elephant.  It too became extinct about the time man began using projectile weapons.
The pygmy hippo (Hexaprotodon) lasted in India until about 16,000 years ago.  There still is plenty of available habitat for pygmy hippos in India today, so man must be responsible for the disappearance of this species.  An horse (Equus namadicus) became extinct in India.  I can't find much about this species, and I think it may have been the same species as the modern horse.  The wild ancestor of modern cattle (Bos namadicus) also vanished from India during the late Pleistocene, but its domesticated descendants are extremely abundant now.
African pygmy hippo.  A species of pygmy hippo lasted in India until about 16,000 years ago when humans wiped them out.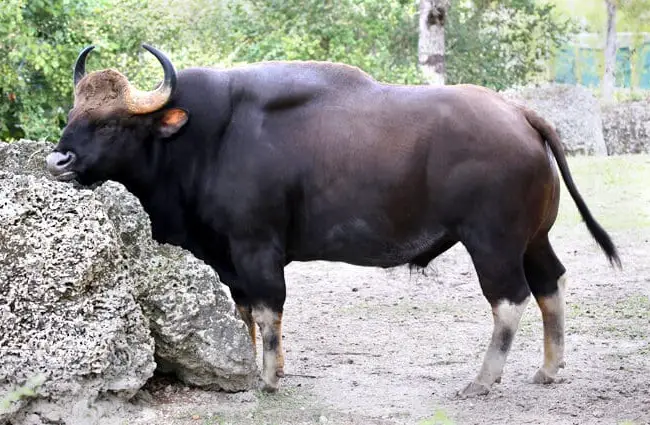 The gaur along with Asiatic elephants and Indian rhinos are still extant but endangered in India.
Scientists hypothesize India suffered fewer end Pleistocene extinctions than elsewhere because the animals there slowly co-evolved with man and learned to be wary of us.  They think this allowed for a robust population network in climatic refugia that could then rebound following local extirpations.  While this might be partially true, I have a different hypothesis.  I propose that in India (and Africa) tropical diseases and tribal warfare kept human populations relatively low.  Large tracts of land remained uninhabited for centuries.  These were the refugia that allowed animal populations to rebound and replenish regions with diminished or extirpated populations.  The Hindu religion's reverence for life originated at least 6300 years ago and may be an additional factor in the persistence of abundant wildlife on the Indian subcontinent.  When India's population of humans eventually did increase, the Hindu religion prevented the wonton slaughter of wildlife that plagued other regions such as China where tigers and elephants have been wiped out.
References:
Jukar, A.; S. Lyons, P. Wagner, M. Uhen
"Late Pleistocene Extinctions in the Indian Subcontinent"
Palaeogeography, Palaeoclimatology, Palaeoecology 562 (15) 2020
Roberts, P.; et. al.
"Continuity of Mammalian Fauna over the Last 200,000 Years in the Indian Subcontinent"
PNAS 111 (16) 2014