Drastic climatic fluctuations occurred during Ice Ages.  Sudden warm spikes in average annual temperatures followed by rapid onsets of much colder climate phases altered the quantitative composition of plant species in the environment.  In most of North America oaks and other broad-leafed trees increased in abundance during warm wet interstadials but waned during arid cold stadials when coniferous parkland forests consisting of pine and spruce expanded in response to the changing climate.  These fluctuations were part of a feedback loop.  The warmer temperature phases gradually caused giant ice dams to weaken and break.  Torrents of cold freshwater from glacial lakes with floating icebergs flooded the North Atlantic, shutting down the Gulf Stream which during present day conditions moderate temperatures.  These deluges of iceberg studded meltwater are known as Heinrich Events, and they caused average annual temperatures to drop by 15-20 degrees F within decades.  In response to the drop in temperatures the Ice Sheets expanded for thousands of years until the next warm phase.  Climate also became drier because moisture for potential precipitation became locked in glacial ice.  However, evidence from a lake in south Florida suggest climate there was out of sync with the rest of North America north of the Rio Grande.
Graph depicting Heinrich Events and the subsequent fall in temperature.  Pollen evidence from sediment in Lake Tulane, Florida reveals the floral response to these climatic shifts, including the most recent 6 Heinrich Events.
Lake Tulane is located near Avon Park, Florida.
Scientists have taken numerous cores of sediment from Lake Tulane, located in south central Florida.  Lake Tulane is a very old body of water and has probably existed for almost 5 million years since this region emerged above sea level.  The sedimentary record goes beyond the limits of radio-carbon dating (50,000 years). The pollen composition in these cores shows the local environment's response to Heinrich Events, but curiously it is the opposite from that of the rest of North America.  When the rest of North America experienced a warm wet interstadial, south Florida became cooler and drier (though mostly not sub-freezing).  The landscape transformed into an environment dominated by scrub oak, Florida hickory, red cedar, ragweed, grass, asters, staggerbush (Lyonia sp.), and rosemary (Ceratiola).  Scrub oak thickets surrounded by open spaces prevailed.  These are all drought-tolerant but shade-intolerant species, and red cedar is fire-intolerant, indicating the rarity of lightning-induced fires.  Conversely, when the rest of North America suffered cold dry stadials south Florida was warmer and wetter and pine forests spread across the land because lightning-induced fire frequency increased, and pine is fire tolerant.  Scientists find macrofossils of aquatic plants in the sediment representing dry phases because the lake was shallow enough to support emergent marsh vegetation, but these are absent during the wetter phases.
A brand new study introduced a new line of evidence that supports assumptions based on the earlier pollen evidence.  The authors of this study looked at variations in carbon and oxygen isotopes from Lake Tulane plant leaf waxes.  Scientists can understand the historical precipitation characteristics by studying the isotopic composition of plant leaf waxes.  (Plants synthesize organic compounds by using hydrogen atoms they absorb from water molecules.  The isotopes vary depending upon their source.)  They discovered that during climatic phases when scrub oak and ragweed dominated, average annual precipitation dropped by 22%.  The source of precipitation was different too.  Oak phase precipitation mostly came from storm fronts, but pine phase precipitation originated from tropical oceanic storms.
The vice-versa climate of south Florida was tied to the shifting Gulf Stream.  Under non-Ice Age conditions the Gulf Stream carries tropically-heated water to the North Atlantic as far as the coast of Canada, moderating temperatures.  When it shut down following Heinrich Events, the warm water stayed near the coast of south Florida, keeping it warm and wet while the rest of North America suffered dry cold conditions.  The Gulf Stream eventually restarted, bringing warmer wetter temperatures north, but this caused cooling and aridity in south Florida.
I hypothesize the Gulf Stream periodically began to restart within stadials, then shut down with new influxes of meltwater.  These partial changes likely influenced temperatures near the coasts of Georgia and South Carolina.  The climate may have temporarily been warmer in this region even during colder climate stages, and the composition of species here may have varied as well, though it involved different species than the Florida endemics.  Eventually, when the Gulf Stream restarted for longer periods, coastal Georgia may have experienced warmer climates centuries before northern latitudes of North America did.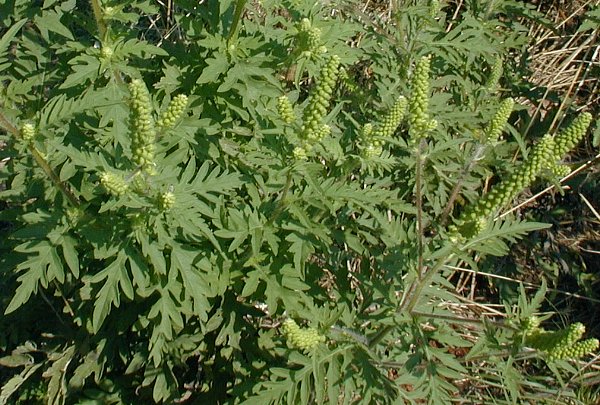 Common ragweed.  It was much more common in south Florida during the late Pleistocene than it is today.
There is no modern analogue for the abundance of ragweed (Ambrosia artemisifolia) in south Florida during the late Pleistocene.  Ragweed prefers cooler nights than occur in present day Florida for germination, and its abundant presence during the late Pleistocene indicates cooler nights prevailed, even during the out of phase warmer climate stages.  Ragweed is a tough plant that grows on disturbed sites such as abandoned agricultural fields and vacant lots.  It produces up to 32,000 seeds per plant, so it is able to survive heavy foraging by herbivores.  The seeds persist indefinitely and can wait for centuries before germinating when an environment transforms into a sunny one.  This means it can lay dormant through several stages of forest succession, and then colonize the habitat when conditions become favorable.  This may explain why it was so successful during the late Pleistocene when both sudden climatic fluctuations and megafauna foraging greatly disturbed and altered the landscape.  Many animals consume ragweed.  Rabbits and meadow voles eat the leaves while birds including juncos, cowbirds, quail, purple finch, mourning dove, goldfinch, and red-bellied woodpeckers eat the seeds.  Rabbits and meadow voles were common in south Florida during the Pleistocene, though the latter is presently restricted to 1 county in the state.  Farmers report livestock prefer giant ragweed (Ambrosia trifida) over clover.  It's unclear if this species lived in south Florida during the late Pleistocene.  It is found in a couple counties, and this may represent relic populations, but they also may be invasive.  Livestock will also eat common ragweed, though they don't like it as much.  Pleistocene megafauna such as horses, bison, and mammoth likely ate ragweed and grass, and they probably occurred in large herds during both climatic phases.  Other species probably common during the oak phase were Harlan's ground sloth, northern pampathere, flat-headed peccary, and giant tortoise.  Flat-headed peccaries preferred thorny thickets, and the other 3 liked open environments.  Predators such as saber-tooths, lions, jaguars, and dire wolves fed upon the herbivores.  Ragweed survived megafauna foraging by producing large numbers of seeds, but 2 other plant species in this environment survived because their leaves were toxic–rosemary and staggerbush.  I think both climatic phases in Florida supported approximately similar populations of megafauna.
References:
Arnold, T. Elliott; et. al.
"Climate Response of the Florida Peninsula to Heinrich Events in the North Atlantic"
Quaternary Science Reviews 194 2018
Grimm, Eric; et. al.
"A 50,000 year old record of Climate Oscillation from Florida and its Temporal Correlation with Heinrich Events"
Science 9 July 1993
Grimm, Eric: et. al.
"Evidence for Warm Wet Heinrich Events in Florida"
Quaternary Science Review 25 Sept 2006