When I moved to Georgia during 1976 there was a beautiful old field between my neighborhood and a fishing pond.  We lived in the Cedar Creek subdivision located in Athens, Georgia, and I don't know who owned the land with the pond we often trespassed upon.  Sadly, that land has been transmogrified into a shopping center parking lot.  Clarke County should have purchased the land and made it a park.  Back then, it was hilly and covered in tall yellow grass and within sight of a bottomland forest that grew alongside a chain of beaver ponds.  The outlet of the pond was a small waterfall that led to pools where large catfish often became trapped.  Crayfish and claw-less freshwater shrimp abounded in the creek, and signs of raccoons-their hand-like paw prints and discarded crayfish shells–could be seen all along the sandy creek side.  An otter slide led to part of the stream.  Deer darted into plum thickets.  One side of the 4 acre pond was bounded by a thick growth of alder; centuries old oaks shaded the other side where we usually fished.  Every Saturday morning while my friend and I headed toward the pond for another fishing adventure, we were frequently startled by the sudden drum-like explosion of a quail covey.  They could have stayed hidden in the tall grass and we would have never known they were there, but apparently we crossed a danger zone for them.  The explosive sound of a quail covey launch probably scares predators too.
Covey of Quail.
Populations of northern bobwhite quail (Colinus virginianus) currently are in decline, and I have not heard its 2 note call in several years.  Quail prefer old fields, grasslands, and open pine savannahs–habitats that have been replaced by 2nd growth forests, pine tree farms, subdivisions, and urban sprawl.  Bobwhite quail survived population declines during Ice Ages.  A study of bobwhite quail genetics determined their populations declined during the Last Glacial Maximum about 20,000 years ago but stabilized at the end of the Ice Age ~10,000 years ago.  Subfossil remains of bobwhite quail dating to the late Pleistocene have been excavated from 8 sites in Florida, 3 sites in Virginia, and 1 each in Georgia, Alabama, and Texas.  Quail remains along with those of ruffed grouse were the most common bird bones found in Kingston Saltpeter Cave in Bartow County, Georgia, dating to ~13,000 years BP.  Predators such as owls and hawks likely carried them into the cave.
Bobwhite quail belong to the New World quail family (Odontopharidae) group that is related to Old World partridges.  There are 32 species of quail in the Odontopharidae family, but the northern bobwhite quail is the only species native to eastern North America because this region has more continuous homogenous habitats.  They are a sister species to members of the quail family in the Callipepla genus which includes California, scaled, and Gamble's quails.  Most other species in the Odontopharidae family are found in Mexico and South America.  The family likely originated there.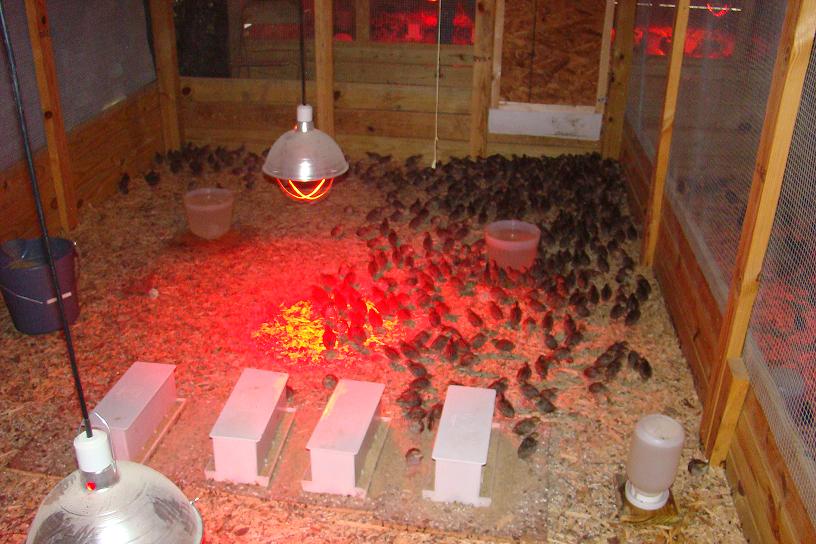 Photo of the inside of a quail farm in Georgia.  Nestlings like heat.
Kroger's Supermarket sells a box of 4 dressed quail for $6.49.  Most other stores, if they have it at all, are double the price. These quail come from a farm in Greensboro, Georgia about a 90 minute drive from my house.
The best way to cook quail is to broil or grill them.  Unfortunately, most restaurants deep fry them–a culinary crime.
Farm-raised quail is readily available in supermarkets, and they are easy to prepare.  The best way to cook them is to sprinkle them with lemon juice, salt, and pepper; then stick them under a broiler for 15-20 minutes.  They can also be grilled.  Marinate them in your favorite marinade, and charcoal grill them for about 5 minutes per side.   (Wild quail may require a different cooking method.  I never cooked wild quail.)  Quail tastes a little better than chicken, but they don't have much meat.  At least 2 birds per person should be served.  Deep-frying quail is a travesty, and they should never be cooked that way.  The breading covers up the delicate taste of the meat.
Reference:
Halley, S. ; et. al.
"A Draft De Novo Genome Assembly for the Northern Bobwhite (Colinus virginianus) Reveals Evidence for Rapid Declines in Effective Population Size Beginning in the Late Pleistocene"
Plos One March 2014