Alfred Hitchcock is my all-time favorite movie director, and I have seen at least 30 of his movies–some multiple times.  I recently read an 800 page biography of Alfred Hitchcock.  For those interested in him but not interested enough to spend 6 weeks reading his biography, I put forth a synopsis of his life, then list my 15 favorite Hitchcock movies.
Alfred Hitchcock with his wife, Alma, and his daughter, Pat.  Today, Pat is 92 years old.
Alfred Hitchcock was born during 1899 in London, England, a child of Catholic parents in a mostly Protestant country.  He was the youngest of 3 children, and his brother and sister were nearly a decade older than him.  His father owned a produce stand, but later took over a fish and chips shop, and the family lived on the 2nd story over the store.  Hitchcock didn't have friends when he was a child, but instead would watch and observe other children playing.  He frequently attended plays and early silent movies, and by the time he was a teenager he was already reading movie trade publications.  He expressed the desire to become a nautical engineer and attended a technical school for a year.  Hitchcock was 15 years old when his father died of alcoholism.  Hitchcock's brother took over the fish and chips shop, and Hitchcock got a job working for Henley's Telegraph and Cable company as a sales clerk.  He was later promoted to the advertising department where he honed his design skills.  He also wrote for the company literary magazine, producing flash fiction notably Hitchcockian–suspenseful with humorous twist endings.  At the age of 21 Hitchcock took a job with Gainsborough Movie Productions writing the title cards for silent movies.  He was then promoted to art director.  Unfortunately, most of these early movies he worked on have been lost.
Hitchcock met his wife, Alma, while working for Gainsborough.  She was already working there when he was first hired.  He hired her when he became director of his first movie, a German film entitled Pleasure Garden. Alma was the love of his life and an important contributor for all of his movies.  She worked on screenplays, edited, and critiqued.  Hitchcock never had any long lasting affairs outside his marriage, but may or may not have gotten occasional blow jobs from actresses (perhaps even Ingrid Bergman).  It's unclear whether these incidents ever happened.  Hitchcock often told dirty jokes just before filming an actress to put her at ease or to make her feel uncomfortable (whichever response he was trying to elicit for the role).  Most actresses thought this habit was funny, but a few didn't like it.  Hitchcock likely would have gotten in trouble with the modern #metoo movement today, despite admittedly being incapable of sexual intercourse since the early 1940s due to his weight.  (Oral sex may have been the only sex act he could enjoy.)  Alma also had an unfulfilled love affair with a gay screenwriter.  But Hitchcock and his wife stayed together until the end and deeply cared about each other.
Hitchcock directed 5 movies for Gainsborough Pictures, then 11 for British International Pictures.  His first talking movie was Blackmail made in 1929.  Some British movie producers thought talking movies were just a fad, and one can see the influence making silent movies had on Hitchcock.  His most memorable scenes are visual and need no sound.  Examples include the shower scene from Psycho, the crop duster attack in North by Northwest, and the villain falling off the Statue of Liberty in The Saboteur. 
British International Pictures fired Hitchcock during 1932, and he freelanced Waltzes from Vienna in 1934 before being hired by Gaumont Pictures where he made 8 movies including some pretty good ones such as The 39 Steps and The Lady Vanishes.  His final British movie was Jamaica Inn for Mayflower Pictures with Charles Loughton.
Hitchcock wanted to make movies in America.  In England the weather was bad, often delaying shooting, and British film companies were always in financial difficulty, verging on bankruptcy.  So he signed an insultingly low paying contract with David Selznick Productions, making $50,000 to make 2 movies per year–less than half of what mediocre American directors averaged at the time.  The Hitchcock family moved to California and became American citizens, and soon Hitchcock started making really good movies with fat American budgets and big name stars.
Scene from Vertigo, my favorite Hitchcock movie.  He began his career during the era of silent movies, and his work always reflected that.  His most famous scenes are all visual.
Scene from The Saboteur of a man falling off the statue of liberty.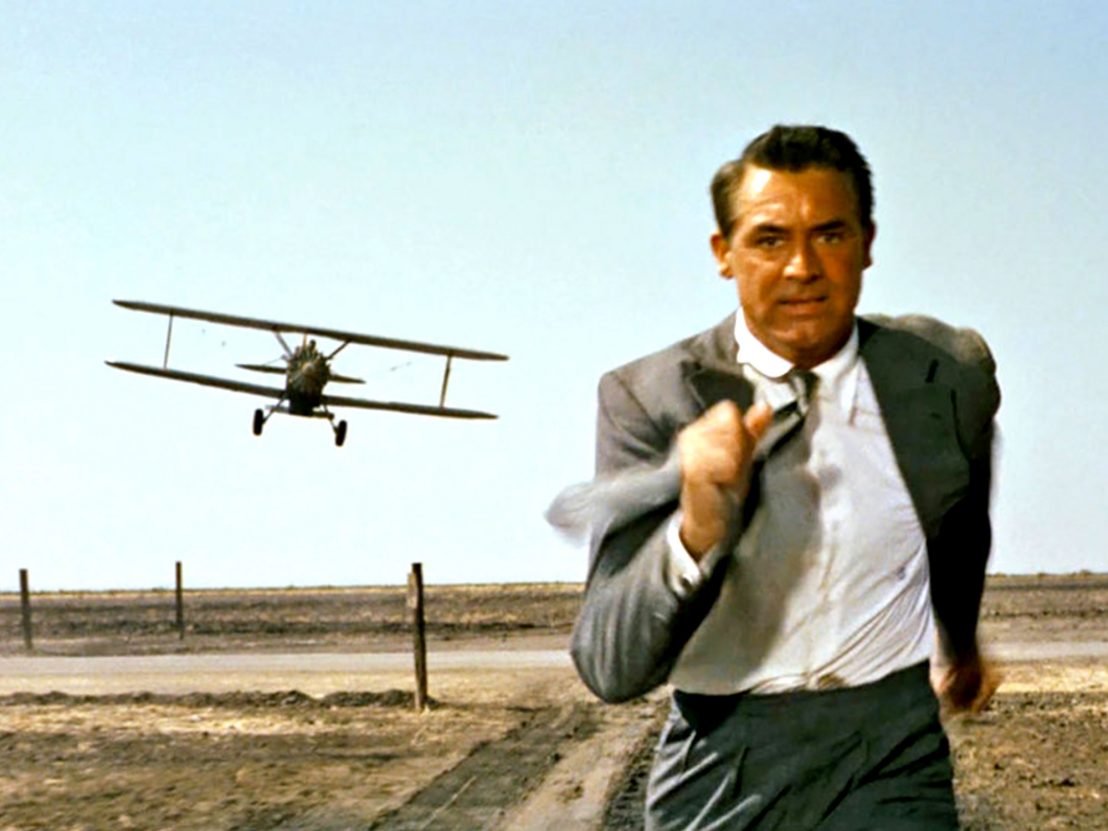 Famous scene from North by Northwest of Cary Grant being chased by a crop duster.  Hitchcock's movies didn't always make logical sense.  Why didn't the bad guys just have a man with a high powered rifle assassinate him?  I suppose that wouldn't have been as interesting to watch.
The first American movie Hitchcock directed, Rebecca, won a best producer Oscar for David Selznick.  Selznick loaned Hitchcock out to RKO, Universal Productions, Skirball Productions, and 20th Century Fox; and Hitchcock made a string of critical and commercially successful movies.  He also returned to England for a while and made propaganda films for the British Ministry of Information during World War II. After the war he completed his contract with Selznick Productions by directing Spellbound and The Paradine Case.  The latter and his next 2 movies–Rope and Under Capricorn–were box office flops.  Hitchcock signed his next contract with Warner Brothers and made critical and commercially successful movies including Stage Fright, Strangers on a Train, and Dial M for Murder.  Hitchcock reached his creative zenith during the mid-1950's through the early 1960's, making his most famous films.  Rear Window was the 3rd best selling movie of 1954.  He followed this with some of the best movies he ever made–Vertigo, North by Northwest, and Psycho.  
Hitchcock's television series, Alfred Hitchcock Presents made him a huge celebrity, and by now he was finally making big money.  He produced and hosted the show for a decade from 1955-1965.  During the early seasons he also directed 3-4 episodes a season, though by later years he was directing just 1-2 episodes per season.  But he chose the scripting, screenwriters, and actors for each episode.  The show, an anthology series focusing on unusual murders, was both humorous and suspenseful, and it was an instant hit with critics.  It remained popular and highly rated during its entire run, and the only reason the show ended was because Hitchcock's health declined, and he no longer had the energy to make movies and produce a television show.
Later Hitchcock movies seem bloated, old-fashioned, and mediocre.  Marnie, Topaz, and Torn Curtain are nothing to get excited about.  But Hitchcock did make 1 really good movie in his later years–Frenzy (filmed in England for Universal Pictures).  Hitchcock's last movie, The Family Plot, was released in 1976.  By this time Hitchcock was a wealthy man, the third largest stockholder of Universal Pictures.  However, he suffered from obesity and heavy drinking, and 1 day, despite no apparent illness, he went to bed and refused to get up or eat (unusual for a man who enjoyed 4 hour feasts).  He stayed in bed for weeks and died at the age of 80 during 1980–almost as if he willed himself to die.
The American Film Institute periodically ranks the top 100 movies of all time.  One year 4 Hitchcock movies made the top 10 with Psycho as number 1.  Here are my 15 favorite Hitchcock movies.
One: Vertigo–The plot is improbable.  A man afraid of heights fails to save the woman he loves when she falls from a great height.  But she's not dead.  The man (played by Jimmy Stewart) finds a lookalike (or is it really her?  What?) and tries to dress her to look like his lost love.  I can't really explain why I love this movie so much.  Perhaps, I admire the weirdness of it all.
Two: North by Northwest–Cary Grant escapes the bad guys by running into an auction where he starts making stupid bids, attracting a police escort to kick him out.  I crack up laughing every time I see this scene.  The movie has suspense, romance, and humor…like most Hitchcock movies.
Three: Rear Window–Jimmy Stewart, laid up with a broken leg, gets to play voyeur when he looks at the apartment building on the other side of the street.  He suspects a man has murdered his wife.  He has.
Four: Spellbound–Hitchcock didn't think much of this movie, but I enjoy the psuedo-Psychiatry.
Five: Dial M for Murder–A tight screenplay with the twist of a murder plot gone wrong.
Six: Psycho–Hitchcock's most famous movie.  A cultural icon.
Seven: The Saboteur–Unforgettable scene of the bad guy falling off the Statue of Liberty.
Eight: Foreign Correspondent–Trouble in a wind mill.
Nine: The Birds–Another cultural icon.  A many layered story, though Hitchcock denied there was any deeper meaning than birds going amok.
Ten: Frenzy–The usual blend of Hitchcock humor and suspense.
Eleven: Rebecca–A masterpiece.
Twelve: Shadow of a Doubt–This is Hitchcock's personal favorite.  What do you do when you discover your favorite uncle is a serial killer?
Thirteen: Rope–2 gay dudes murder their friend for kicks.  Just to see if they can get away with it.  The movie was ahead of its time.
Fourteen: Lifeboat–Survivors of a sunk ship are trapped on a lifeboat with the Nazi submarine commander who just sunk the ship.  What could go wrong?
Fifteen: Notorious–The movie studio executives thought the concept of an atomic bomb was ridiculous and wanted to change the screenplay. A few months after the movie was released, the U.S. dropped atomic bombs on Japan.
Reference:
McGilligan, Patrick
Alfred Hitchcock: A life in darkness and light
Regan Books 2003