Seaweed is an healthy dietary supplement for ruminants (animals that chew their cud).  Sheep in Scotland, reindeer in Norway, and caribou living along the coast of Alaska eat seaweed that washes up on the shore.  However, seaweed is seldom more than 5% of their diet.  If a caribou or sheep eats too much seaweed, they ingest too much salt and suffer diarrhea. A diet of mostly seaweed is not optimal.
Scientists recently analyzed a 45,000 year old caribou antler found on Haida Gwaii Island located off the coast of British Columbia.  They determined through an analysis of carbon and nitrogen isotopes in the amino acids that seaweed made up between 23%-41% of this individual's diet.  The authors of this study think weather conditions forced this caribou into a suboptimal diet.  Normally, caribou feed upon birch and willow twigs and leaves, sedges, and mushrooms during summer; and lichen and dried sedges during winter.  They are capable of removing snow cover with their hooves, but they have difficulty breaking through icy snow when it covers their feeding grounds.  Apparently, icy snow covered this caribou's prime feeding grounds, and it had to subsist on kelp washed on shore.  This caribou did live during a cold stage of the Wisconsinian Ice Age.
Map of Haida Gwaii Island, location of the 45,000 year old caribou specimen analyzed by scientists.  During the Ice Age the island was larger.  The coast of British Columbia and Alaska served as a glacial refuge for western caribou because most of their present day range was under glacial ice.  Caribou also roamed as far south as South Carolina, Georgia, and Alabama during the Ice Age.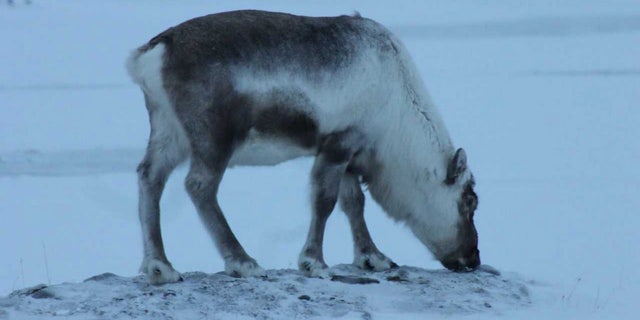 Svalbard reindeer feeding upon washed up kelp.  Reindeer are the same species as caribou.
North American caribou
Kelp washing up on shore was an important item in the diet of at least 1 caribou 45,000 years ago.
Cladonia rangerfina–a lichen.  This is a common winter food for caribou over much of their range.  Lichen are a symbiotic organism–a fungus with algae and/or cyannobacteria living in it.
Caribou roamed far down the eastern seaboard during the Ice Age.  Caribou fossils have been found as far south as Charleston, South Carolina, and their bones are often dredged up in fishing nets off the coast of North Carolina.  Caribou bones have also been excavated from caves in north Alabama and north Georgia.  Caribou probably migrated seasonally in eastern North America, and the route of some herds likely included an area along the Atlantic Coast that is now ocean but was dry land during the Ice Age.  I wonder if eastern caribou some times ate seaweed as well.  There are specimens that scientists could study to answer this question.
I also wonder what else caribou ate when they lived farther south during the Ice Age.  Lichen is a present day favorite food, and there are 17,000 different species of lichen worldwide.  Lichens are symbiotic organisms consisting of a fungus with algae and/or cyannobacteria.  The fungus gets nutrients from the woody or rocky substrate but also gets nutrients from the photosynthesis of the algae or cyannobacteria.  Nevertheless, I don't think lichen was an important food source for eastern Ice Age caribou.  There were probably better quality foods available in the richer woodlands and grasslands of the east.
Reference:
Kubiak, C; R. Mathewes, J. Grimes, G. Biesen, and M. Rochester
"Evidence of a Significant Marine Plant Diet in a Pleistocene Caribou from Haida Gwaii, British Columbia"
Palaeogeography, Palaeoclimatology, and Palaeoecology 564 Feb 2021