Archaeologists have been studying ancient paintings on cave and rock shelter walls in Cheribiquete National Park for over 30 years, but last year they discovered an 8 mile stretch that includes rare images of extinct megafauna.  Cheribiquete National Park is located in Colombia and covers 17,000 square miles–the largest tropical forest park in the world.  The newly discovered rock shelter walls are illustrated with images of a giant ground sloth and young, horse, llama, macrauchenia, gompothere, and perhaps bear.  An extinct species of horse known as hippidion lived in South America over 10,000 years ago.  The llama depicted on the wall maybe an extinct or extant species.  All the images are crudely drawn and don't depict adequate details to distinguish species identification.  These may be the only images of a gompothere and macrauchenia that have ever been drawn by people who actually saw them alive.  Gompotheres were a mastodon-like animal, similar to elephants, but nothing like a macrauchenia lives today.  Their closest living relatives are rhinos, horses, and tapirs; but genetic evidence suggests they diverged from those odd toed ungulates 66 million years ago when dinosaurs became extinct.  Macrauchenia were adaptable animals capable of living in many different kinds of habitats, and they likely occupied a giraffe-like ecological niche because they had long necks.  Fossil remains of macrauchenia are not found anywhere near Cheribiquete National Park, showing how inadequate the fossil record is.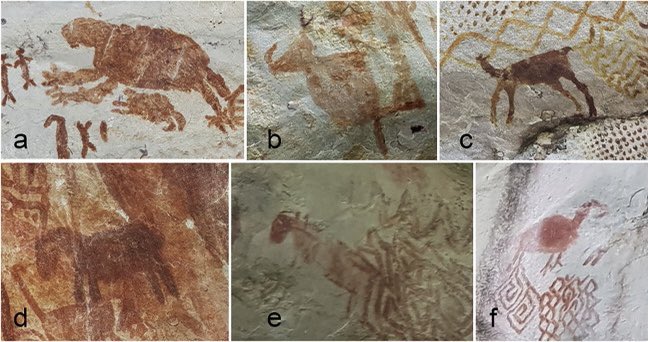 Rock art paintings of pre-historic megafauna.  The art work is poor, but I think they depict a ground sloth and young, gompothere (an animal similar to a mastodon), a llama, an horse, and a bear or another ground sloth?, and a macrauchenia.  It looks like a man is hunting the gompothere (a juvenile?) with a club or atlatl.  It also looks like a man has his armed raised at the ground sloth, but the atlatl isn't drawn.  In another image it looks like the man is stabbing the bear in the side.

The Natives must have used ladders to paint these figures on some of the rock shelters.  They are much higher than a human can reach.  Archaeologists used drones to photograph some of them.
Archaeologists suggest the natives scaled the high rock shelter walls to paint these images.  I think it is more likely they used ladders to reach these heights.  The paintings are thought to vary in age from about 15,000 years BP to the 16th century.  Apparently, natives stopped painting walls shortly after European contact perhaps because the culture shock of this interaction destroyed American civilizations.  The paintings themselves can't be radio-carbon dated because the substance used was inorganic.  European cave paintings were drawn with charcoal and can be radio-carbon dated.
Some of the articles reporting this discovery are written by people who assume the presence of the animals depicted on the rock shelter walls is evidence of a different local environment during the Late Pleistocene than occurs there today.  This is not necessarily true.  Macrauchenia was a generalist species, and gompotheres likely preferred dense forests.  Clearings in the forest created by gompothere foraging may have sustained populations of horses and llamas.
In addition to the extensive rock shelter drawings, Cheribiquete National Park is home to 82 species of mammals (52 of them bats), an astonishing 410 species of birds, 60 species of reptiles, 57 species of amphibians, 238 species of fish, and over 200 species of butterflies.  Notable animals include jaguars, cougars, monkeys, armadillos, peccaries, tapirs, scarlet macaws, emerald hummingbirds, and harpy eagles.  The park has great potential as a tourist destination.  Unfortunately, it is also an hideout for thousands of FARC rebels.  FARC is an organization that basically is a bunch of communist gangsters who kidnap people for ransom and sell cocaine.  FARC battled the Colombian government for 40 years before finally signing a peace agreement recently, but the region is still not safe enough for tourism.
Tags: Cheribiquete Natiional Park, gompothere, macrauchenia, rock shelter paintings of megafauna