I've learned a couple things this past week in my search for blog fodder.  A new study presented evidence saber-toothed cats fought each other.  This is not at all surprising–I always just assumed this was true.  All extant large mammals battle each other in intraspecific conflict over mates or territory.  Of course, saber-toothed tigers were no different.  However, scientists found actual evidence–2 Smilodon populator skulls found in Argentina (1 by an amateur and 1 by a professional paleontologist) have punctures in them that exactly match the canine of another saber-tooth cat.  Smilodon populator was a huge species of saber-tooth, reaching 750 pounds in weight, that lived in eastern South America until about 11,000 years ago.  It was closely related to the more widespread Smilodon fatalis which ranged throughout most of North America and western South America until the end of the Pleistocene.  Previous studies have suggested Smilodon biting pressure was weak compared to most other species of cats, but apparently it wasn't that weak…they were capable of puncturing bone.  The same kinds of injuries occur in extant species of cats.  Undoubtedly, most of these wounds are fatal, and the canine of a Smilodon was so long it definitely caused a fatal bite because it penetrated well into the brain.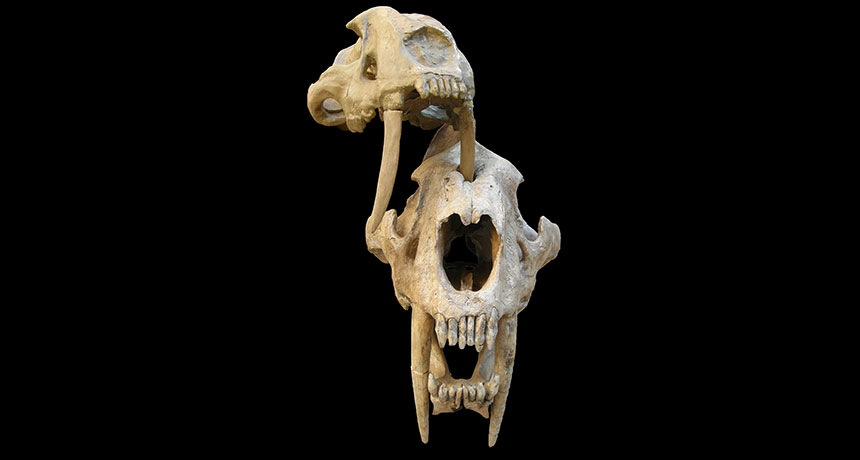 Saber-toothed cats sometimes died during intraspecific fights.
I was watching a nature show on National Geographic wild entitled Wild Portugal and learned there were wolves still living in Portugal.  This, I did not know.  There is a population of 2000 wolves living in northeastern Spain and northern Portugal, and they are protected, though farmers try to kill them when they can get away with it.  The wolves take an heavy toll on the local sheep.  Some consider them beneficial because they control populations of wild boar.  They also hunt feral horses and deer.  Genetic evidence suggests the Iberian wolf has been isolated from other European wolves since before the Last Glacial Maximum when the populations were separated by a glacier.
Iberian wolf.
I also didn't know there was a feral population of cats in Madagascar that already evolved to twice the size of a regular house cat.  Arab traders brought cats to Madagascar about 1000 years ago, and they went wild.  The evolution in size is an adaptation for hunting lemurs–a regular part of their diet along with rodents, snakes, and birds.  They outcompete a native predator, the fossa–a distant relative of the mongoose.
Feral cat in Madagascar.  They are twice the size of a regular house cat.
Reference:
Chimento, N; et. al.
"Evidence of Intraspecific Agonistic Interaction in Smilodon populator (Carnivora, Felidae)"
Comptes Rendus Palenal 18 (4) June 2019
Tags: feral cats of Madagascar, Iberian wolf, Smilodon populator