The Florida Museum of Natural History just published an exciting new bulletin.  The paper describes every Cenozoic fossil specimen found in South Carolina and examined by scientists for the last 17 years–since the late Al Sanders published  Additions to the Pleistocene Mammal Faunas of South Carolina, North Carolina, and Georgia. A link to this new bulletin is at the bottom of this blog entry.
Several new specimens of Pleistocene age are notable.  Fossil hunters found the partial tooth of an extinct species of margay cat ( Leopardus amnicola) from the Ashley River phosphate beds–a first for the state of South Carolina.  A close relative of this species ( L. weidii  ) still occurs in tropical Central and South America.   L. amnicola remains have been found at 12 sites in Florida, 3 in Mississippi, 2 in Georgia, and 1 in Alabama.  Apparently, it was a widespread species occupying forests of southeastern North America.  It likely became extinct during the Last Glacial Maximum when environmental conditions changed to more open landscapes.
A margay cat.  An extinct relative of this species formerly occurred across southeastern North America. 
The most remarkable find was the limb bone (a tibia) of a pseudo-cheetah found on Edisto Beach. Scientists tentatively assiged it to  Miracinonyx ? trumani–a species previously unknown east of the Mississippi.  However, assignment was based on the age (late Pleistocene).   M. inexpectus, a species of pseudo-cheetah common from the Pliocene-mid Pleistocene, is rarely, if uncertainly known from the late Pleistocene.  I'm not convinced the limb belonged to a pseud-cheetah.  Pleistocene cougars ( Puma concolor) grew larger than modern day cougars, and I don't believe scientists can discern with certainty the difference between pseudo-cheetahs and cougars without examining a skull or teeth.  Pseudo-cheetahs grew larger than cougars, but large Pleistocene cougars overlapped in size with small pseudo-cheetahs.  I covered this topic on a previous blog entry.  (See: https://markgelbart.wordpress.com/2018/05/28/an-anatomical-comparison-between-the-extinct-north-american-cheetahs-miracynonyx-sp-and-the-late-pleistocene-holocene-cougar-puma-concolor/ ) Edisto Beach abounds with subfossil remains of big cats including saber-tooths, giant lions, jaguars, cougars, bobcats, and now possibly pseudo-cheetahs.
More bones of helmeted musk-ox, caribou, and walrus have been found in South Carolina over the past 17 years.  Most people think of these species as beasts of the far north, so it's curious to realized how far south they occurred before man disrupted the ecosystem.
Caribou ranged into the middle-south during cooler climate phases.
This is the first paper I've read that identified giant beavers from the mid-south as  Casteroides dilophidus.   Recently, paleontologists recognized that extinct giant beavers of the mid-west ( C. ohioensis) were not the same species as giant beavers from the southeast.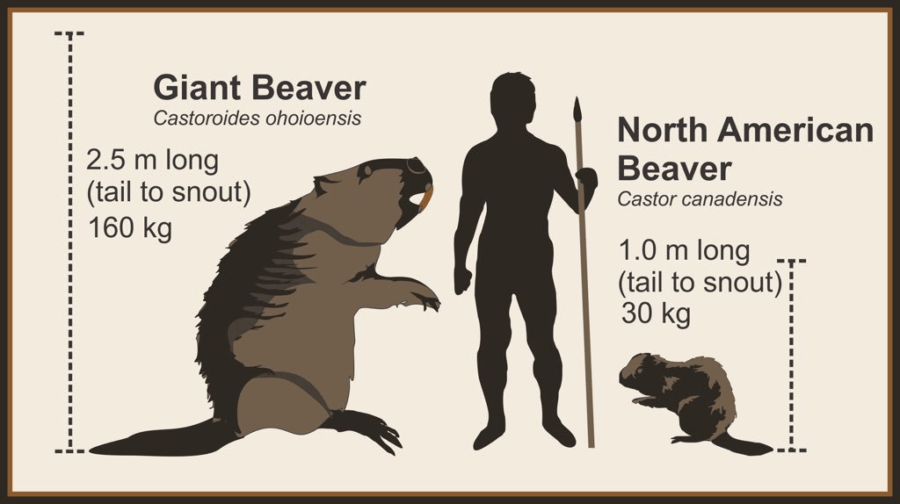 There were 2 species of giant beavers. C. ohioensis and C. dilophidus.
Several other first specimens found in South Carolina are interesting enough to note here.  The remains of the giant armadillo (Holmesina floridanus) were discovered in Clapp Creek, Williamsburg County.  It dates to the early Pleistocene.  Imagine a 300 pound armadillo.  There is also the first record of a Pleistocene coyote (Canis latrans) from in state.  Pre-Pleistocene first South Carolina finds include fossils of the bone-eating dog ( Borophagus hilli), dating to the Miocene, and hell pig (an entelodont), dating to the Oligocene.
The below linked paper really has some nice tables of South Carolina Pleistocene-aged fossil sites and all the species found at each. Although specimens of 13-lined ground squirrels were already known, I was surprised to learn just how common and widespread they were.  This species prefers open habitats and is absent from the region today.  Its presence suggests more prairie habitats during Ice Ages.
Reference:
Albright III, L. et. al.
"Cenozoic Vertebrate Biostratigraphy of South Carolina, USA and Additions to the Fauna"
Bulletin of the Florida Museum of Natural History  57 (2) October 2019
https://www.floridamuseum.ufl.edu/wp-content/uploads/sites/35/2019/10/Vol57No2archival.pdf
Tags: caribou range, Leopardu amnicola, Miracinonyx trumani, South Carolina cenozoic fossils