Until well into the 20th century tropical diseases and tribal warfare left large areas of Africa uninhabited, and megafauna flourished.  An estimated 10 million elephants lived on the continent in 1900 and populations of rhinos, giraffes, zebras, lions, and other species were much higher than they are today.  Now, there are just 430,000 elephants living in Africa, and all of Africa's megafauna are in danger of extinction.  The biggest threats are from overpopulation of people and loss of habitat.  Farmers convert wild lands into agricultural plots, and pastoralists with their increasing herds of cattle will not tolerate ungulates competing for grazing range or predator attacks on their livestock.  Illegal poaching is another major threat.  Trophy hunters from America claim they are helping to protect the last remaining populations of megafauna by supporting local groups that protect hunting preserves from poachers.  Instead, these sadistic safari hunters are contributing to the ongoing extinction of Africa's most iconic animals.
For a price hunters can still go on a safari and kill rare mammals.  Here are some of the prices on the internet I found for guided safari hunts: elephant ($38,000), endangered white rhino ($66,790), lion-leopard-buffalo ($32,500 for a 26 day safari), zebra ($3500), baboon or jackal ($300).  Giraffes are pretty cheap too–$3450.  Incidentally, giraffe populations are in severe decline.  1 hunter paid $350,000 to kill an extremely rare black rhino.  By contrast a 4 day photographic safari costs just $2500. I am not against sustainable hunting for food, but the idea that rich people would spend this much money to slaughter rare animals in poor countries disgusts me.  This is what they do with their recreational budget?  Travel across the world to wipe out the last remaining populations of iconic animals with high powered rifles? These people are sick.  They make me think of the Nazis who killed my relatives during the Holocaust.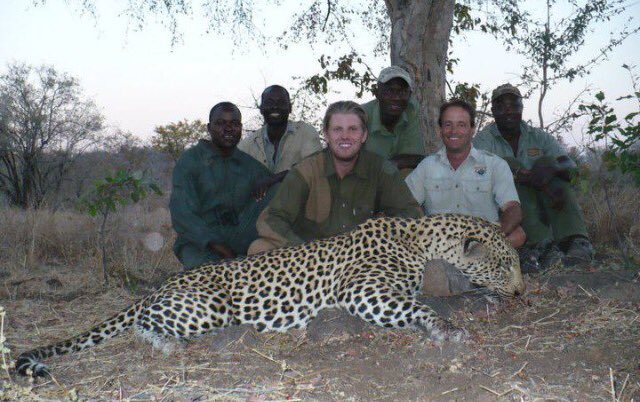 Here is an example of a Richie Rich douchebag on a safari hunt.  This is 1 of Donald Trump's sons. He paid a fortune to murder a leopard.  He and his brother went on a safari and killed a leopard, civet cat, antelope, and buffalo. Why the hell would anyone kill a civet cat? He bragged about giving the antelope meat to the locals…the people who can't afford to hunt these animals themselves.  What a jerk.  Trump's entire family are a bunch of crooks who are using the White House to personally enrich themselves.  The U.S. is a disgrace for electing such a racist sexist pig to be president.
The claim that these safari hunts help conservation efforts is dubious at best and downright false in most cases.  First of all, there is a moral disconnect between letting rich American hunters slaughter wildlife for trophies,while local poor people are forbidden from hunting for bush meat to help feed their families.  This system stokes the kind of anti-colonial resentment that would foster sympathy for the poachers.  Then, there is the corruption.  Most of these African countries are so corrupt that money spent on safari hunts is pocketed by a few local gangster autocrats, and it does not go toward conserving the wildlife.  For example the $350,000 the hunter spent on killing that black rhino that I mentioned above went to an organization that doesn't even help conserve black rhinos.  The money is supposed to go to guards that protect the big game animals, but instead it invariably ends up in the hands of some corrupt local politician who doesn't give a shit about wildlife.  The safari hunters themselves are frequently corrupt.  They often bribe guides to let them get extra trophies above their limit.  Safari hunters claim they only shoot animals past their breeding age.  This demonstrates ignorance about basic biology, and it a ridiculous lie anyway.  None of the big game species they hunt ever live long enough to become infertile with age.  Moreover, they purposefully shoot the best looking trophies–the individuals with the largest horns and the lions with the most luxurious manes–and these animals are the strongest most fertile specimens within the population.  A noted wildlife photographer saw entire lion prides in Botswana wiped out by trophy hunters.  The safari hunters killed all the adult males, so the only male lions left in the area were the cubs that grew up and mated with their mothers, causing inbreeding that led to local extirpation of the pride.  A recent scientific study determined that trophy hunting so weakens the gene pool that it could eventually lead to the extinction of African megafauna.
I think African countries should promote photographic safaris instead of hunting safaris.  Money brought in by safari hunting amounts to less than 1% of tourism dollars brought into Africa by foreigners.  An increase in photographic safaris could easily replace this revenue.  Nevertheless, African megafauna is in big trouble.  As long as a certain percentage of the billion Chinese who live on earth are dumb enough to believe rhino horn is an aphrodisiac, I just don't see how poaching can be stopped in corrupt African countries.  "Conservation" by safari hunters is a colossal lie that is only contributing to the extinction of these magnificent mammals.
Reference:
Knell, R.; and Carlos Marinez-Ruiz
"Selective Harvest Focused on Sexual Signal Traits can lead to Extinction Under Directional Environmental Change"
Proceedings of the Royal Society of Biological Science November 2017